Welcome to J's Bridge Pad.
BRIDGE GAMES:
IN-PERSON:
Join us in open, friendly, and fun games at 2711 Lemay Ferry Rd (click on Map for location) on Tuesdays & Fridays at 10 AM. We take a short lunch break and lunch can be purchased from the Du Bowl Snack Bar. The game Fee is $7.  Click on Special for the schedule of South County Games awarding extra and color points. There is no extra fee for these games.
Click on the "Results" tab from the main menu at the top to view game results. 
BRIDGE EDUCATION:

J's Bridge Pad has been diligently working to provide you with a user-friendly environment for the bridge learning experience. Click on Classes for the details. 
Practice/Mentor  Sessions:

Do not miss out on imprving your bridge in a friendly enviroment of our weekly practice session on Tuesdays at 6 PM in Creve Coeur. During the session you can ask questions on Bidding, Leads, Play of the hand and any thing else comes to your mind! We also discuss the hand after it is completed. Please contact Jay (314 495 6093) for addtional details. See you all on Tuesdays!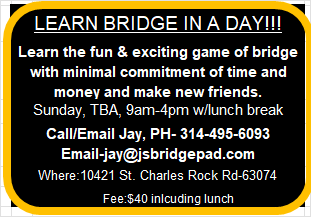 Click on Flyer for addtional details.
TOWN & STYLE:
Check out a nice article about J's Bridge Pad from Town & Style by clicking on Notable Neighbors.
GATES & BUFFET:
Check out this 5-minute video to see what Bill Gates & Warren Buffet have to say about bridge. You can click on the image below.